Girls Basketball TONIGHT at Nell Holcomb 5:45 pm Our girls are traveling north to Nell Holcomb to tip off at 5:45 pm against the Hawks. Good luck Lady Falcons!!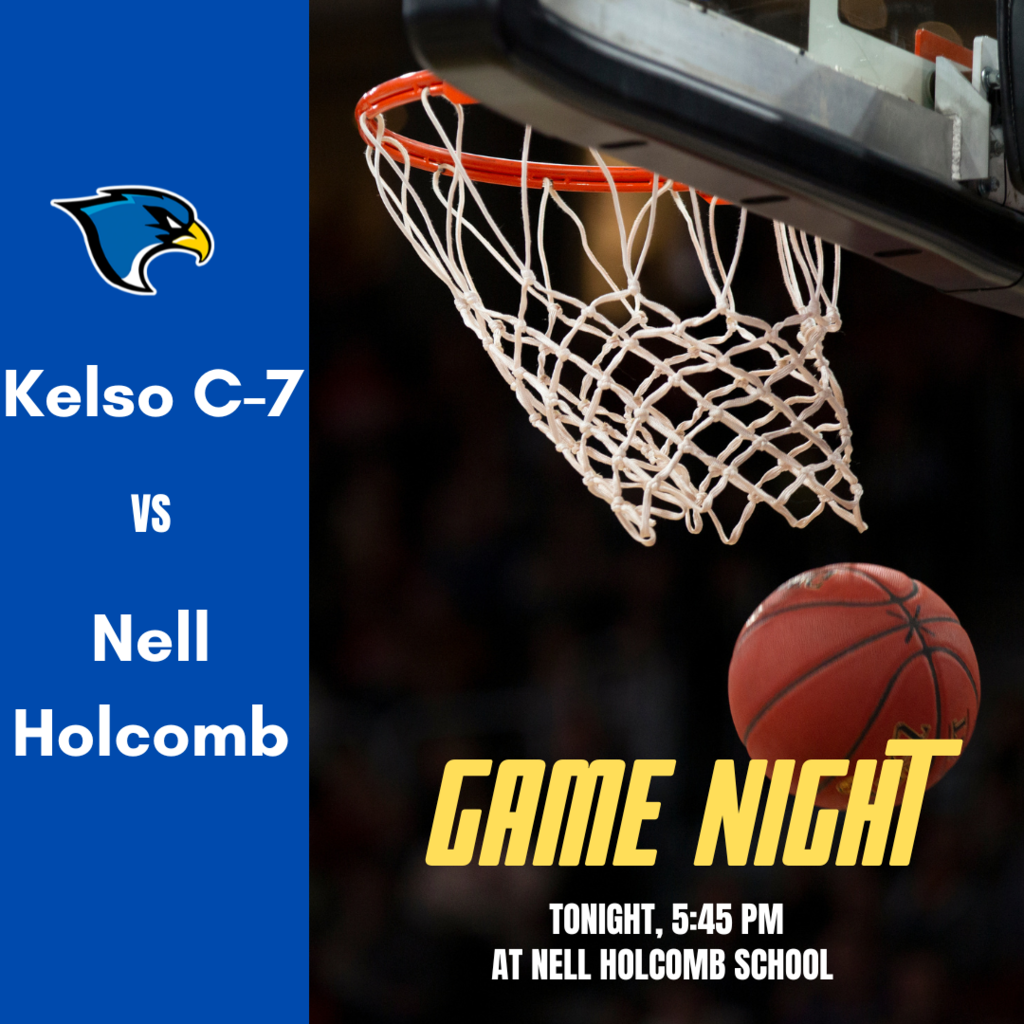 Who's ready for another exciting week at Kelso C-7?? Here's our line-up for the week of February 13th. Just a friendly reminder, we ARE in session this Friday, February 17th. Let's make it a great week, Kelso C-7 Family!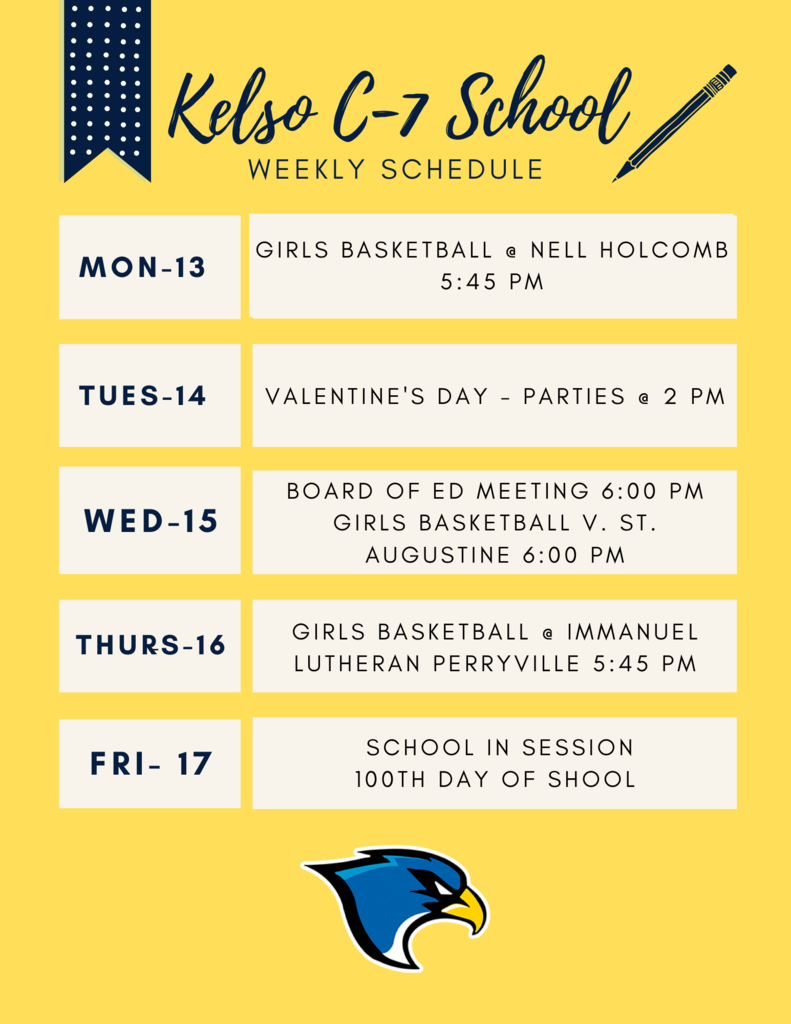 3rd Quarter Mid-term Reports Due to an internal error, the 3rd quarter mid-term reports are coming home a littler later than scheduled. Grades will be calculated through Monday, February 6 and reports going home on Monday, February 13th. We apologize for the error. If you would like access to your students' grades before then, families can login to TeacherEase to check grades at any time. Please call the office if you are unable to login, we are happy to help! Dr. Burger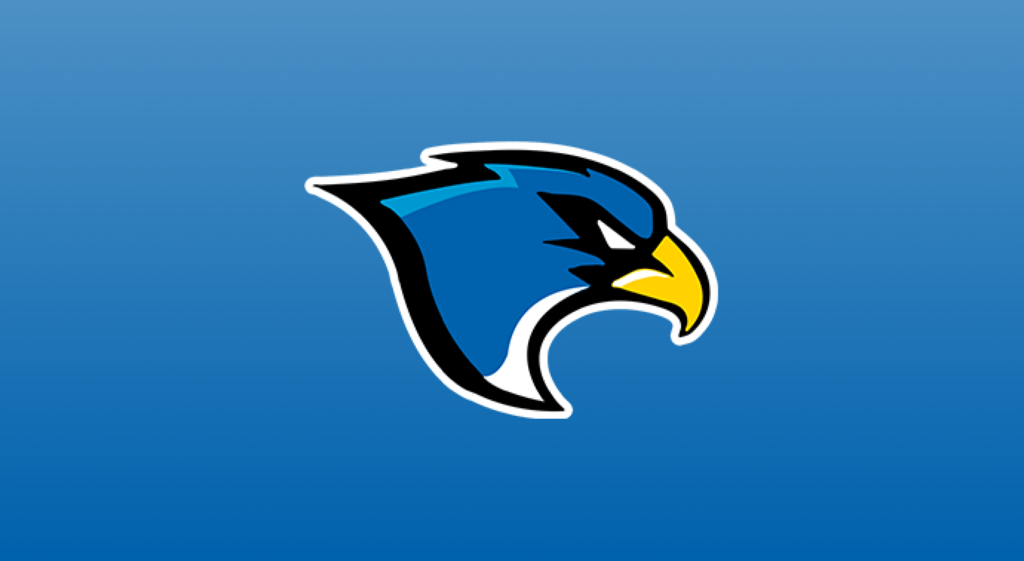 Great news! The Big Smiles in-school dentist is coming to our school. Even better, dental care is usually at no cost to you. All insurance is accepted including Medicaid and CHIP. Keep your child healthy, in-school and learning. Sign up online NOW at
www.myschooldentist.com
Paper copies were sent home last week. If you need another copy, please let us know ASAP. Please have all online and paper copies completed and returned to school no later than the end of the day Monday, January 30th.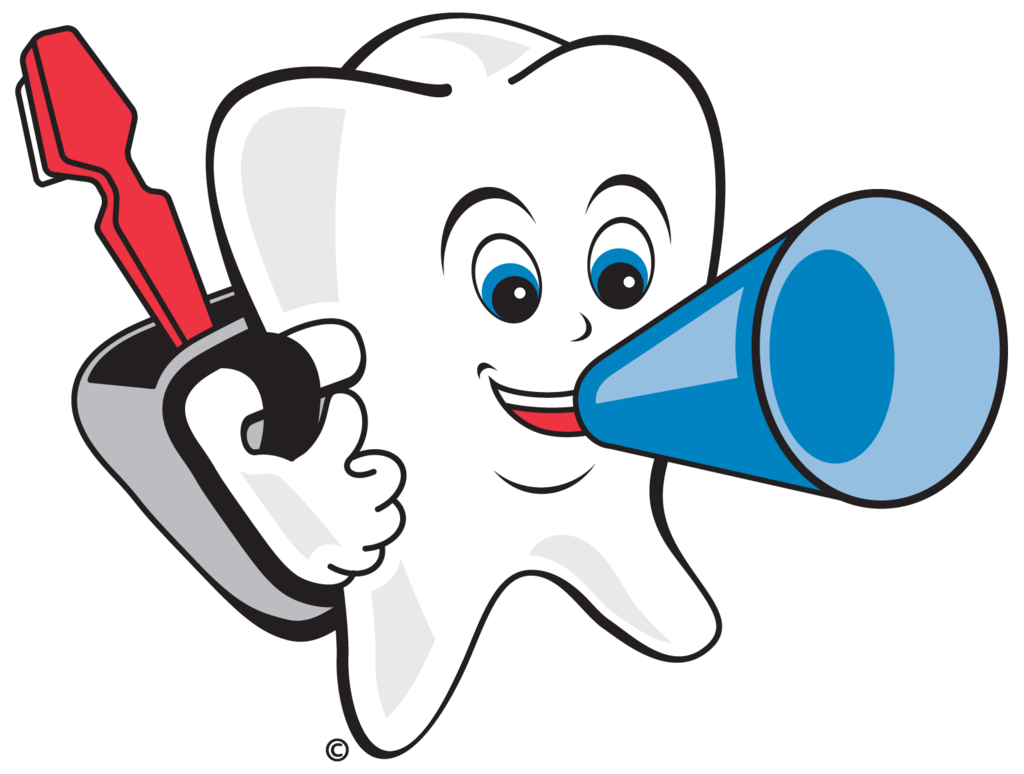 School Closure, Tuesday, 1/24/23 Kelso C-7 School will be closed on Tuesday, 1/24/23 due to utility repairs. We expect the repairs to be completed in one day. The make up day for this will be the in-service day scheduled for February 17th. Students will now be in session 2/17/23.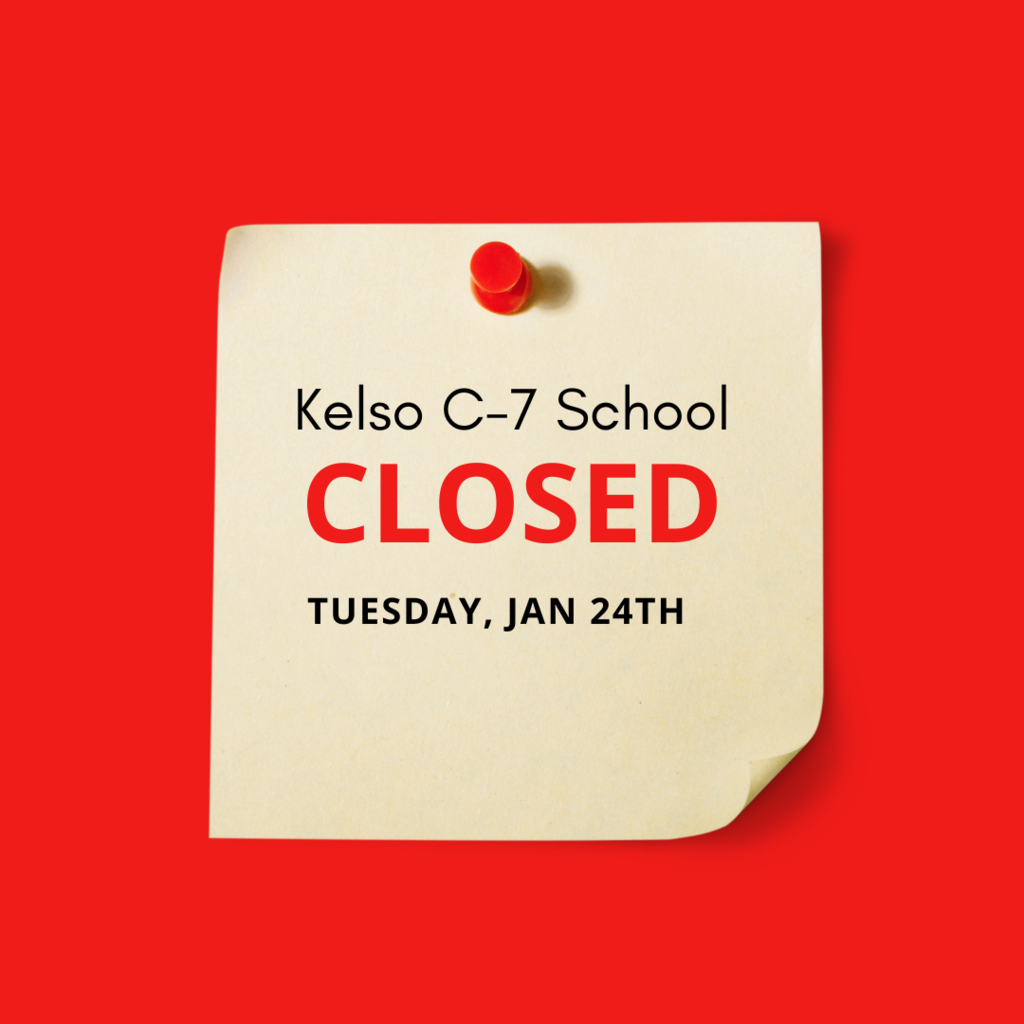 Good morning Falcon Families!! Here is our visual schedule for the week! We are looking at a possible school closures this for both weather and a utility repair. Liberty Utilities needs to make an upgrade to our gas line that would leave us without heat, hot water, or the ability to cook lunch. With the current temperatures, the lack of heat is not safe or conducive to the learning environment for our kiddos. We are working the with the utility company to establish a repair date and will let our families know as soon as possible. In the case of a closing, parents will be notified by our app, social media, and KFVS 12. With that being said, if you have not downloaded the app and allowed for push notifications, it's not too late! Go to the app store and search "Kelso C-7" to find it. It's a free download. Here is a link to YouTube tutorial to help.
https://youtu.be/8P0cJ3icV3s
I will pass along the repair dates as soon as we are notified and we will keep our eye on the weather. Have a great week Kelso C-7 Family!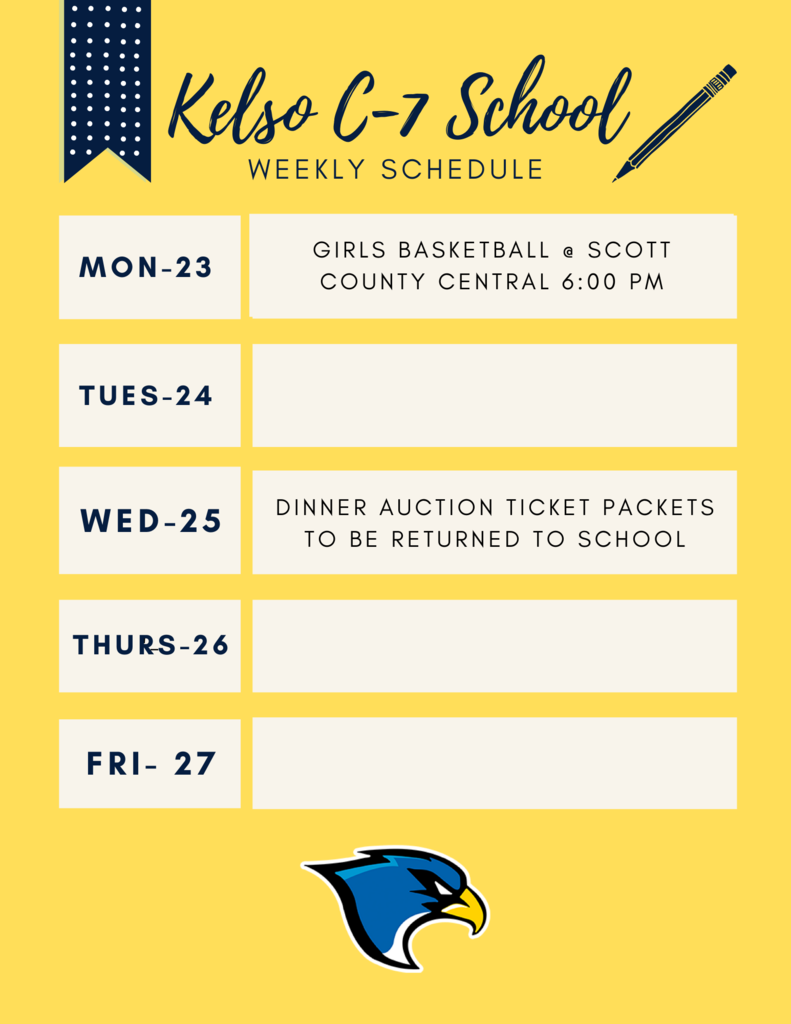 Possible Storms/Rain at Dismissal 1/18/23 It is looking like we may experience some inclement weather during dismissal. If the case of heavy rain or stormy conditions our dismissal procedures will transition a little. Families in the car rider line will continue to line up in two rows around the parking lot and two lines in the middle if needed. School employees will bring students out three cars/families at a time starting with the outer row. When the three cars are loaded, a school employee will motion for those cars to go and the following cars to pull forward. We will load and dismiss the outer row (closest to the building), the inner row, and then the middle row. There is no real change to how our families line up; the change will be how students are brought out, causing a little longer wait. We appreciate your help keeping our students safe through all conditions.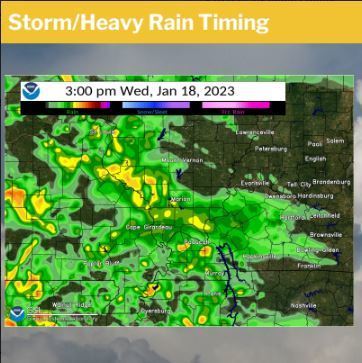 Tomorrow is a big day!! Our basketball team and cheerleading squad start their play at the Annual Notre Dame Regional Tournament!! Let's pack the stands to cheer on the basketball team while also helping our cheerleading squad earn crowd participation points. Bring your friends and your Falcon spirit! Tomorrow. 1:30 pm at Notre Dame Regional High School.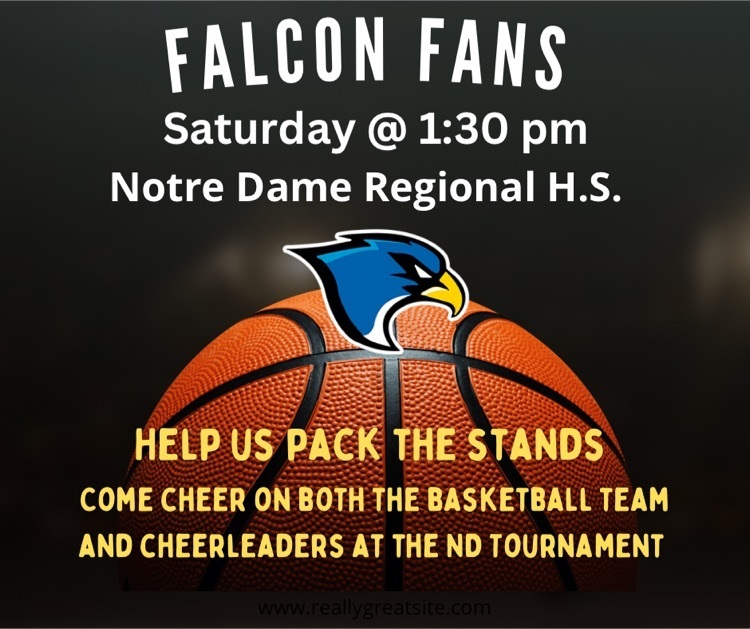 Thursday, 12/15/22: After School Tutoring Canceled After School Tutoring for Thursday, 12/15/22 is canceled. The program will resume after the winter break.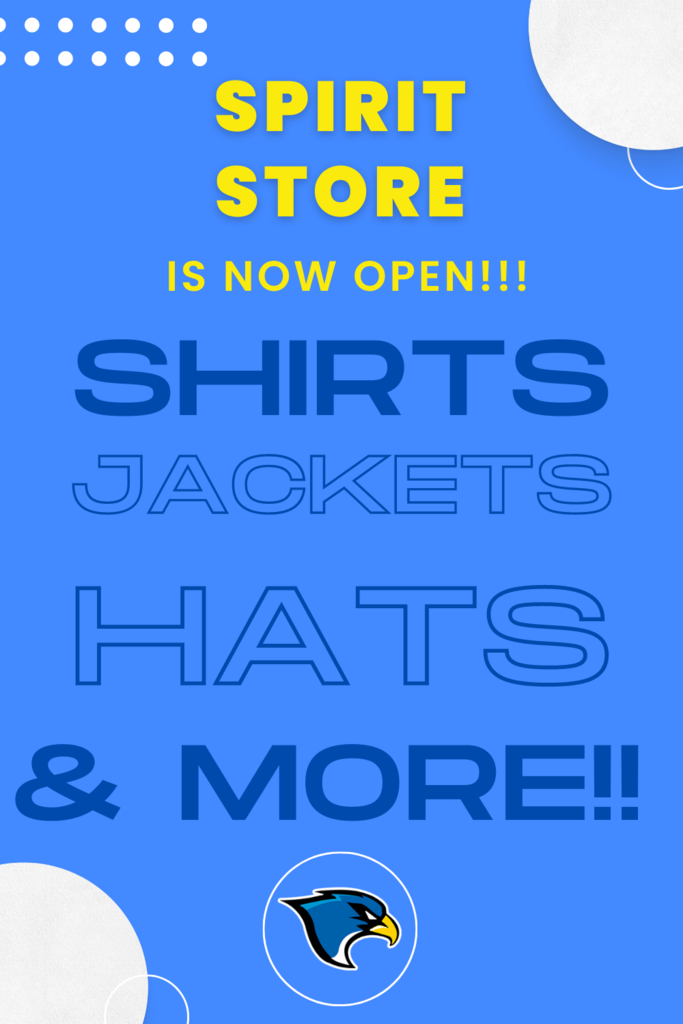 Preschool Waitlist (for 2023-24) Deadline is this Friday, 12/16/22 This Friday our preschool waiting list will "freeze" for the 2023-24 school year. This means that our list as of this Friday will be the students that are invited to enroll in order of established priority of age, and residency. Families that are invited to enroll will receive notification mid to late January. Students can be added to the waitlist at any time of the year. After this Friday, all waitlist additions will be still be added for consideration for any spots that open up and/or for the 24-25 school year. If you would like your child added to the waitlist, please send the following information to Mrs. Crystal Bentley, Preschool Director, at
cbentley@kelsoc-7.k12.mo.us
, or by calling the school office at 573.545.3357 Information needed: parent's name, physical address, phone number, child's name, and child's date of birth If your family has any questions, as always, please feel free to reach out to us. We are glad to help how we can. Dr. Burger

Kelso C-7 Board of Education will be accepting candidate filings for board members starting Tuesday, December 6, 2022, at 8:00 am and will continue during regular hours which Monday through Friday from 8:00 am – 3:30 pm. Filling will not occur on days that the district office is closed due to inclement weather. Filling will also not occur on the following days when the District's office is closed: December 19 through December 25, 2022 for the Holiday Break. The District Office will be open from 3-5 pm on December 26 and December 27. The last day of filing will December 27, 2021 until 5:00 pm. There are three positions available for three-year terms. The positions up are Elizabeth Glastetter, Matthew Klipfel, and Ryan Steimle. Either the Board Secretary or the Superintendent can accept filings.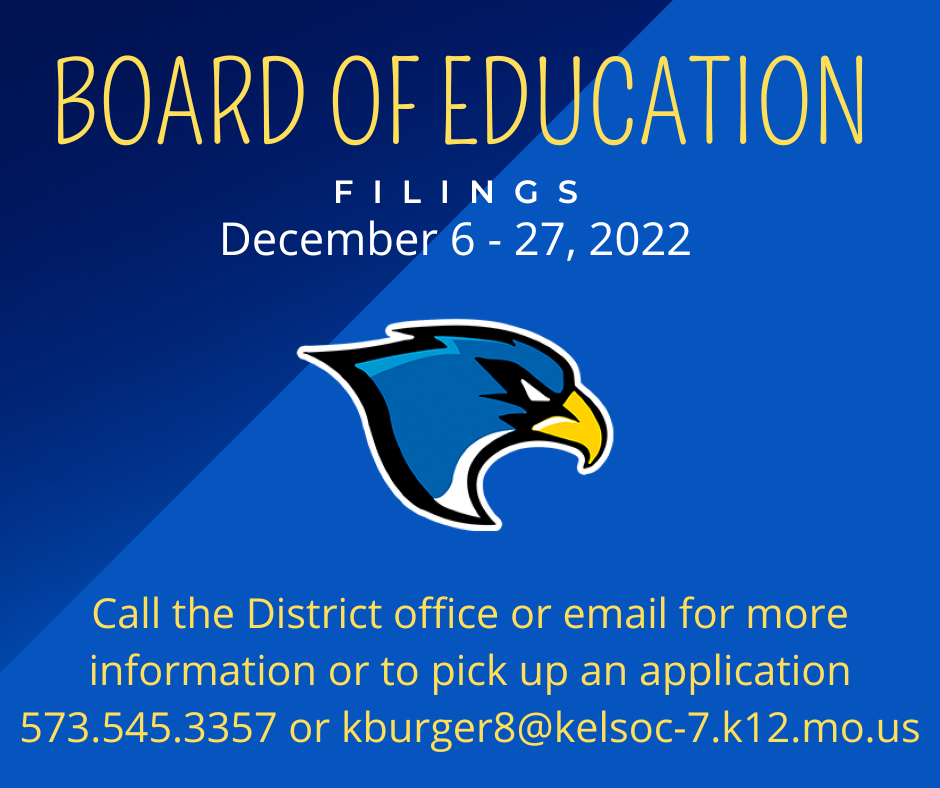 A great week is head for our Falcons! Check it out!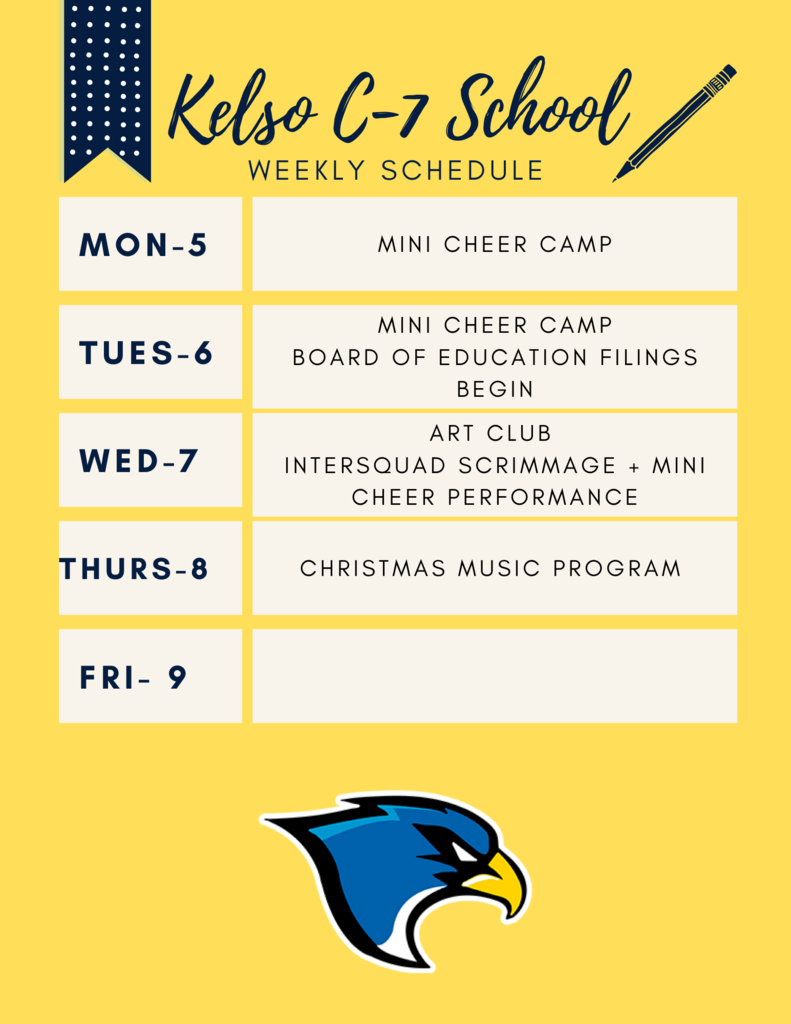 Student of the Month We will be celebrating our next group of Students of the Month tomorrow)(Monday, December 5th)! That means its time to send the signs back in for the next hard working Falcon. Thank you for your help to recognize our students!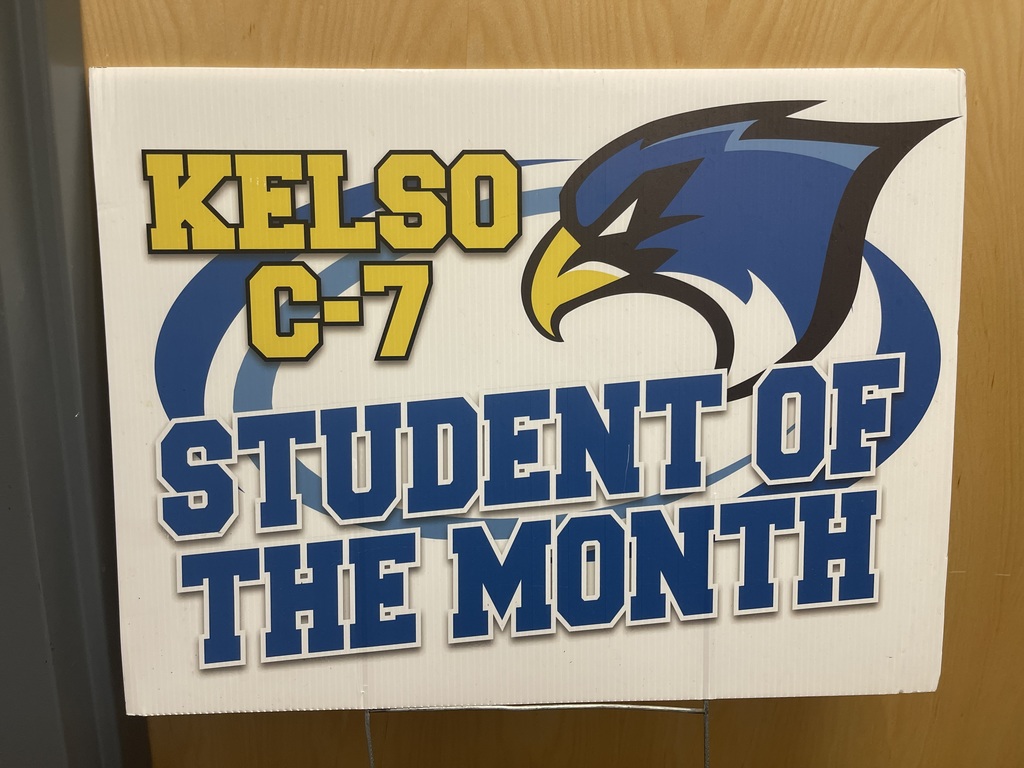 Canned Food Drive - December 1-14, 2022 Donations should be brought to school, and Beta Club students will pick them up from classrooms. Please help by donating canned and non-perishable food items to help benefit those in need. Cash donations will be used to purchase additional food items. Please label these envelopes to Food Drive. All donations will go to the Jesus in Disguise food distribution scheduled for Sat., December 17 at St. Denis Catholic Church in Benton, MO. Suggested items -canned fruit - cereal - mac & cheese -canned vegetables - canned chicken - boxed stuffing -instant potatoes - canned soups - cranberry sauce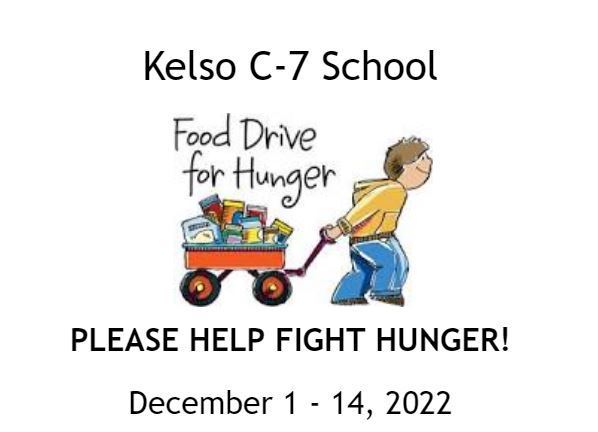 Mini Cheer Camp Rescheduled AND 1st Ever Inter Squad Scrimmage Thank you all for your understanding and flexibility as we work to keep our students healthy. It's a huge task during this time of year! Our cheer and basketball coaches have worked together to not only reschedule the mini cheer camp but host its first ever inter squad scrimmage game. Mini cheer leaders will be showing their spirit and learning from our own Falcon Cheer Squad on Monday, 12/5 and Tuesday, 12/6 from 5:30 - 7:30 at the St. Lawrence Gym. We do ask parents to drop off their mini cheerleaders promptly at 5:30 and pick up at 7:30 pm. Our boys basketball will be practicing until 5:30, so we ask that you curb the mini's excitement by keeping them in your vehicle until as close as possible to start time. Wednesday, 12/7 will be the grand finale. Starting at 6 pm at the St. Lawrence Gym, the boys basketball teams will battle it out bragging rights in the first ever inter squad scrimmage game. Falcon v. Falcon. Our mini cheerleaders and Falcon Squad will be performing a Holiday treat at halftime! Mini Cheerleaders are asked to wear a Santa or holiday hat. All of our spectators are invited to join the holiday fun as well! Admission is a canned food item or a cash donation to the Jesus in Disguise Food Pantry in Benton. Come join us for fun, holiday spirit filled evening for all!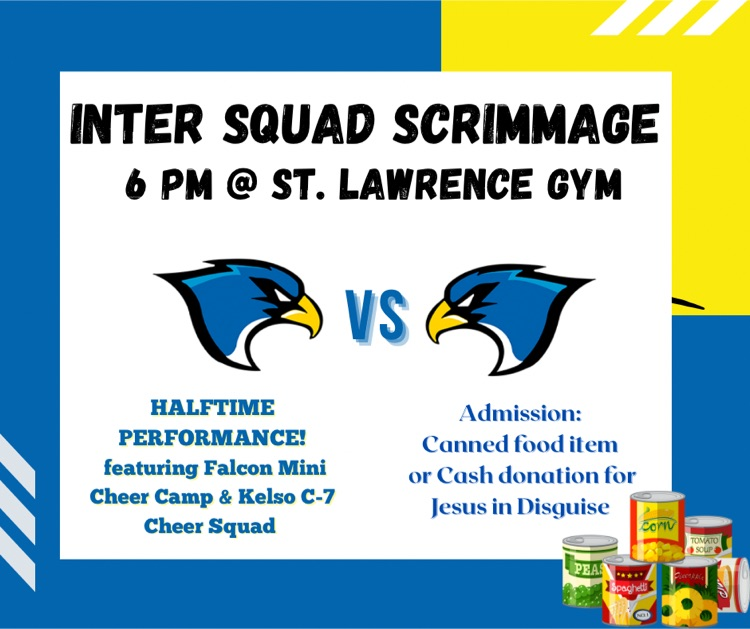 MINI CHEER CAMP DELAYED Good evening all, Due to an outbreak of illness, we believe its best to delay the mini cheer camp. We know our mini Falcons are extremely excited to show their spirit! We will find alternate dates to reschedule the camp and performance as soon as we can. We appreciate your understanding and flexibility as we work to keep our learning environment as healthy as possible. Thank you! Dr. Burger

ATTENTION CHEER CAMP FAMILIES--SCHEDULE CHANGE! We are so excited to have such a great turnout for our 2022 Falcons Cheerleading Camp. To make sure your mini cheerleader gets the most out of camp and this experience, we are breaking up the performance times into two nights. We also want to ensure families and players have enough space inside the St. Lawrence gym with the larger crowd of awesome Falcons supporters. PLEASE SHARE this post. Camp is the same: Tuesday, 11/29 and Wednesday, 11/30 from 5 to 7 pm at the St. Lawrence gym. Snacks will be provided both camp nights. Thursday, 12/1: ONLY grades preK-Third will perform, and this will be at the START of the 6 pm game. Please arrive no later than 5:45. Families may leave after the performance, if they wish. We understand the younger students have earlier bedtimes and nighttime routines. Friday, 12/2: ONLY grades 4-5 will perform and due to their smaller numbers, only they will be allowed to cheer on the sidelines with our cheerleaders for the first and second quarters of the JV game at 6. We are so excited and can't wait to share cheerleading with this large group of awesome mini cheerleaders. Thanks for your understanding and support!

Now that our bellies are full, it is socially acceptable to talk about Christmas! Our team is preparing a fun line-up for December! For now, we are sharing the plans for Holiday Spirit Week December 12-16. See the details below for the fun!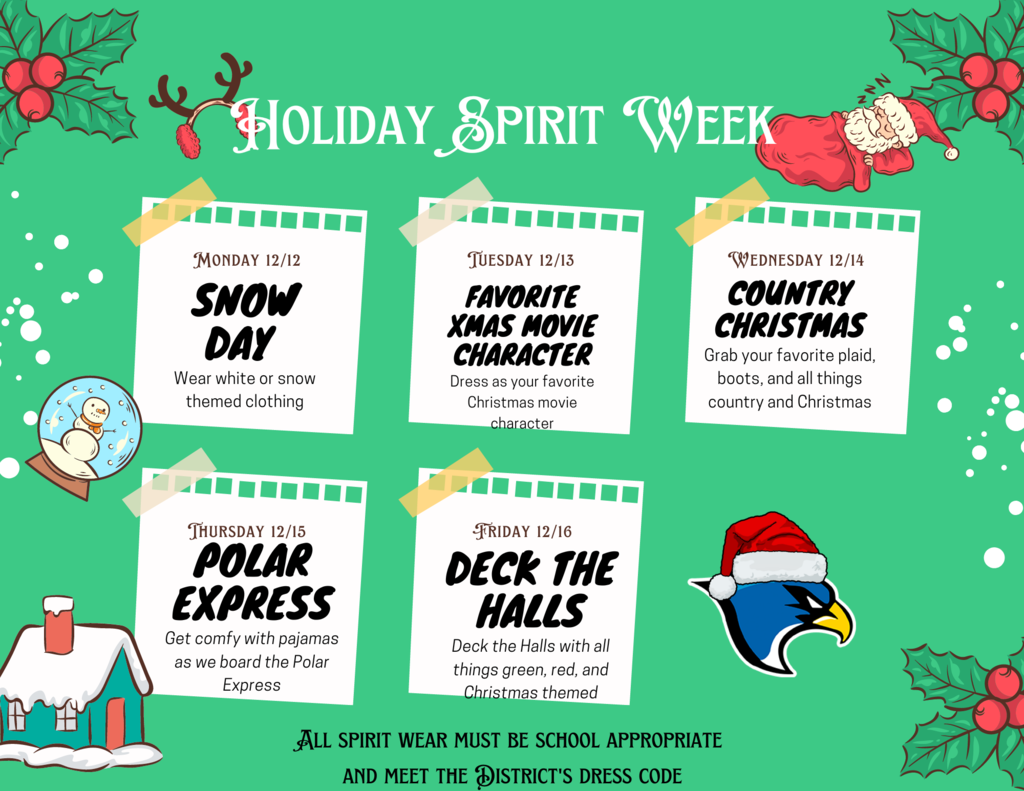 Need a little help keeping the kids warm this winter? Cape Girardeau and Scott City Knights of Columbus are hosting an event this Saturday, providing new winter coats for children at no cost. Saturday November 26, 2022 8 a.m. until 12 p.m. Knights of Columbus Council 1111 318 South Spanish Street Cape Girardeau, MO Girls coats sizes children to teenage Boys coats sizes children to teenage