We are headed into the LAST week of school! 😎What a great year it has been and we are ready to finish strong. Just a few friendly reminders for the week.... 🔹There is no after school care this week. If you did not receive your invoice on Friday, please call the office for your balance. 🔹 All student balances must be paid in full for students to participate in Play Day on Tuesday.. This includes breakfast, lunch, after school care, library books, preschool tuition, etc. If you are planning for food service related reasons, our amazing PTO will be purchasing lunch for all of our students both Tuesday and Wednesday. (THANK YOU PTO!!!). There will still be breakfast those days. 🔹Play Day begins at 9 am on Tuesday at the school. PTO will be providing shirts for the day. If any shirts were sent home already, please make sure your child wears the shirt on Tuesday. 🔹 School dismisses at noon on Wednesday to kick off summer vacation. Buses will run normally from school starting at 12 noon. 2.5 days until summer break!!

Kicking of Teacher Appreciation Week with Principal's Day!! And boy is Kelso C-7 is blessed with the BEST! Mrs. Lands is our faith-filled principal that leads our Falcons with grace, compassion, and a whole lot of sparkle! She ensures that students and staff alike are loved, heard, and the center of whatever it is she is tackling. Her impact will be felt well beyond her time at Kelso C-7. Please help me share some love and gratitude to our own principal, Mrs. Debbie Lands!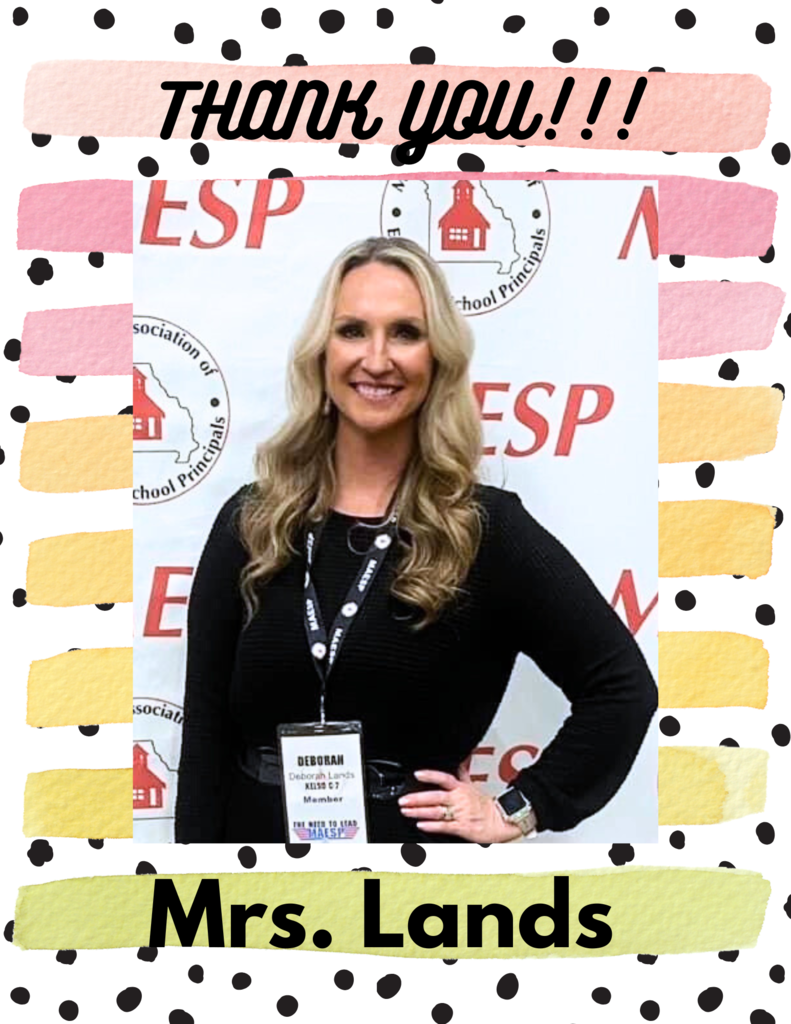 Here's our week ahead! MAP Testing begins this week! Our kids are ready to rock the test. They have been preparing all year for this! We need our school family's help to make sure our students are at their best the day of the test. Getting a good night's sleep, a healthy breakfast, arriving on time, and a little extra word of encouragement in the morning are just a few ways we can help our Falcons be even more prepared for the MAP. We appreciate all the help we can provide for our students. A special thanks to PTO for preparing daily treats for our test takers!! Have a great week Kelso C-7 Family!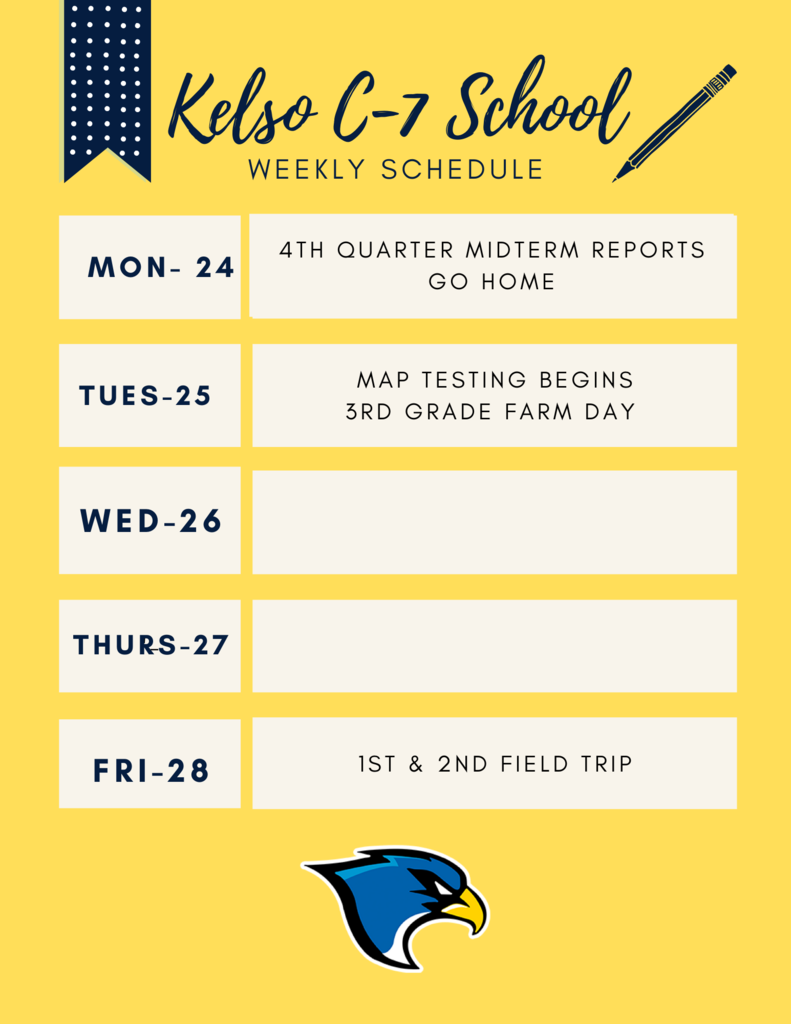 Save the Date - Spring Concert May 16th @ 6:00 pm The Falcons in grades PK, 1, 3, 5, and 7 are going to be performing on Tuesday, May 16th at 6:00 pm for their Annual Spring Concert. The location is TBD.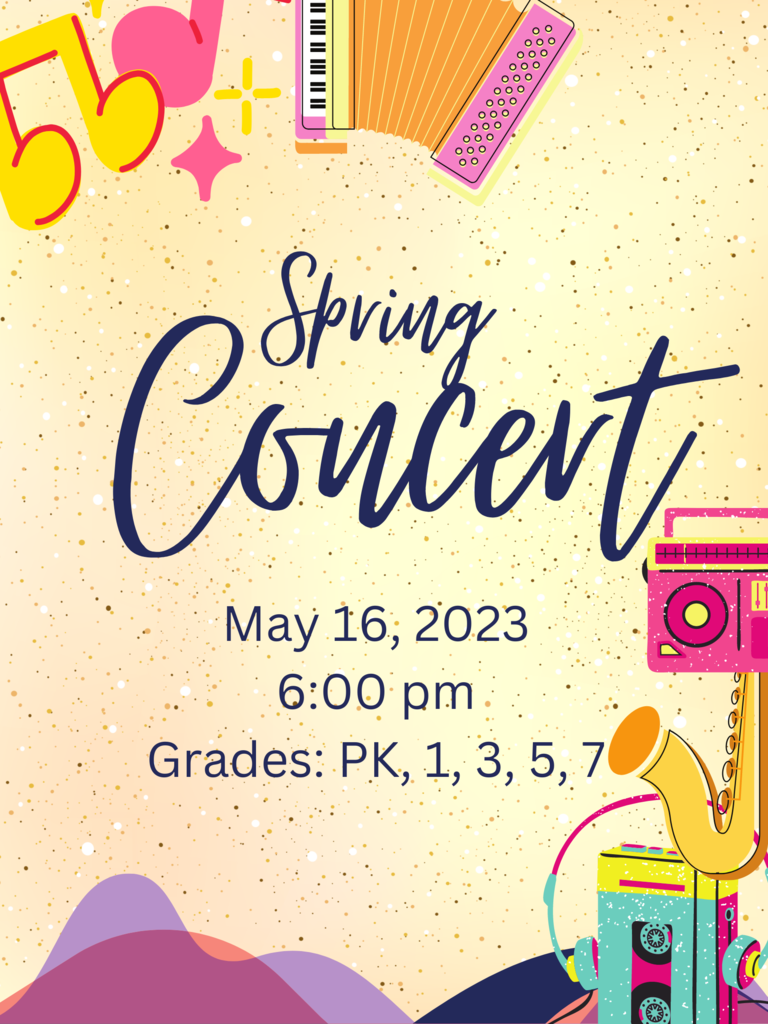 Sports Physicals - Friday, April 21st @ Kelso C-7 Dr. Anne Heisserer will be back at Kelso C-7 School this Friday to offer sports physicals to anyone who wishes to participate. Each physical is $40; checks can be made payable to "Dr. Anne Heisserer." The link for the physical form is below. Each student will need pages 3 and 4 completed BEFORE the physical by a parent/guardian. If you need a copy, please see Nurse Rongey or call the office. Physicals are good for 2 years.
https://www.mshsaa.org/resources/pdf/PreParticipationPhysicalEvaluation_1617.pdf

We have a couple more days of Spring Break left, but our return to school is just around the corner, too. Here's what's ahead next week: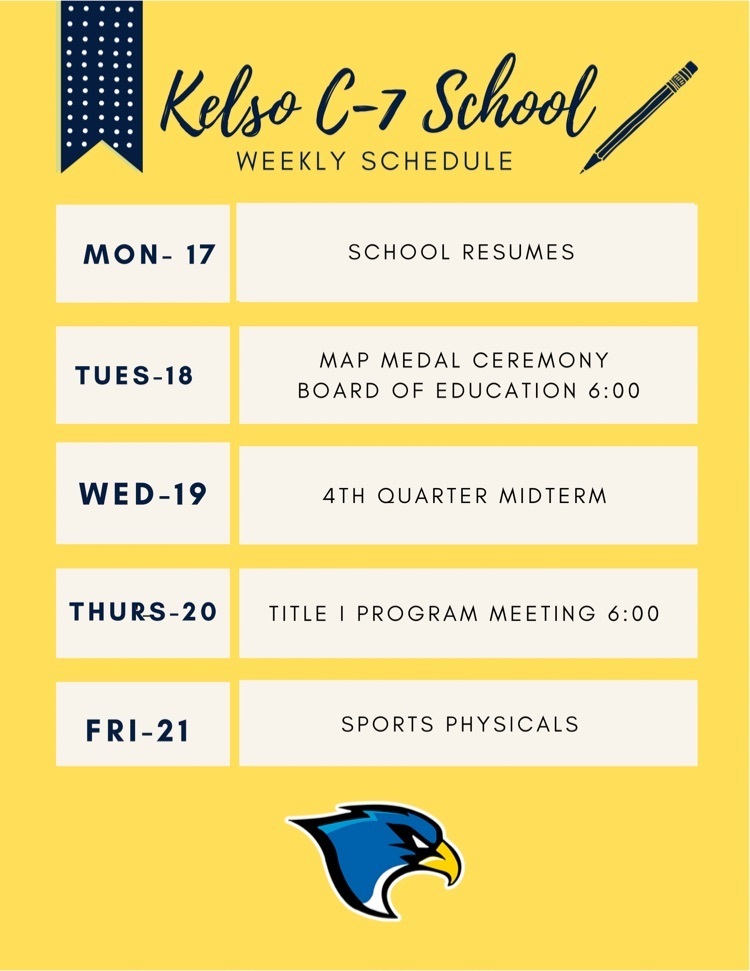 Doing some spring cleaning over the break? We may have a place for that extra "stuff." Kelso C-7 is looking for gently used children's' items to support the after school care program. See the social media image for ideas. Any items can be sent to school with your student or dropped off in the office. We are grateful for any and all help you can share to help us expand our after school care program!!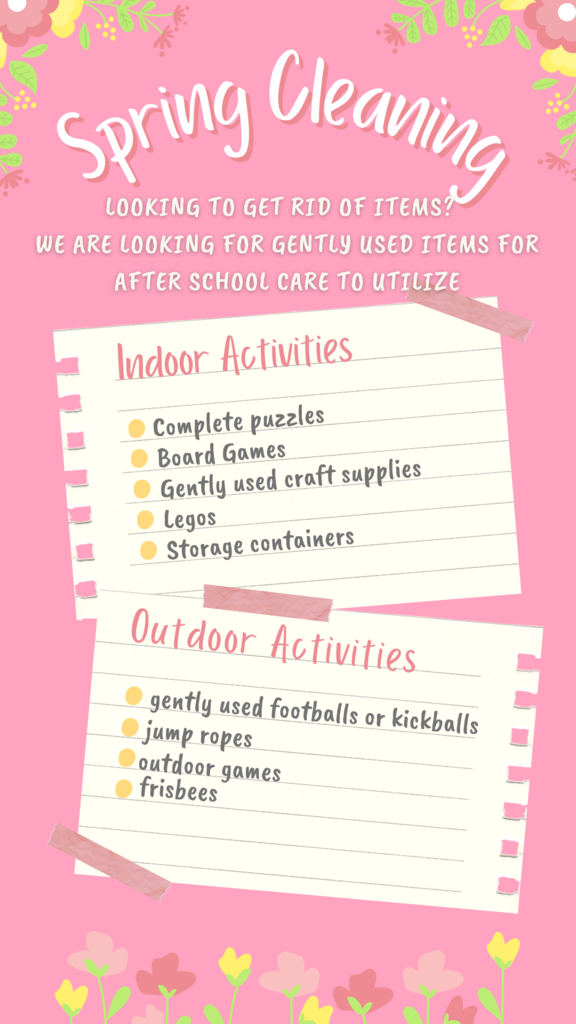 Spring Break is HERE! May all of our families enjoy their time together and make lots of memories! We will see all of our school family when school resumes on Monday, April 17th!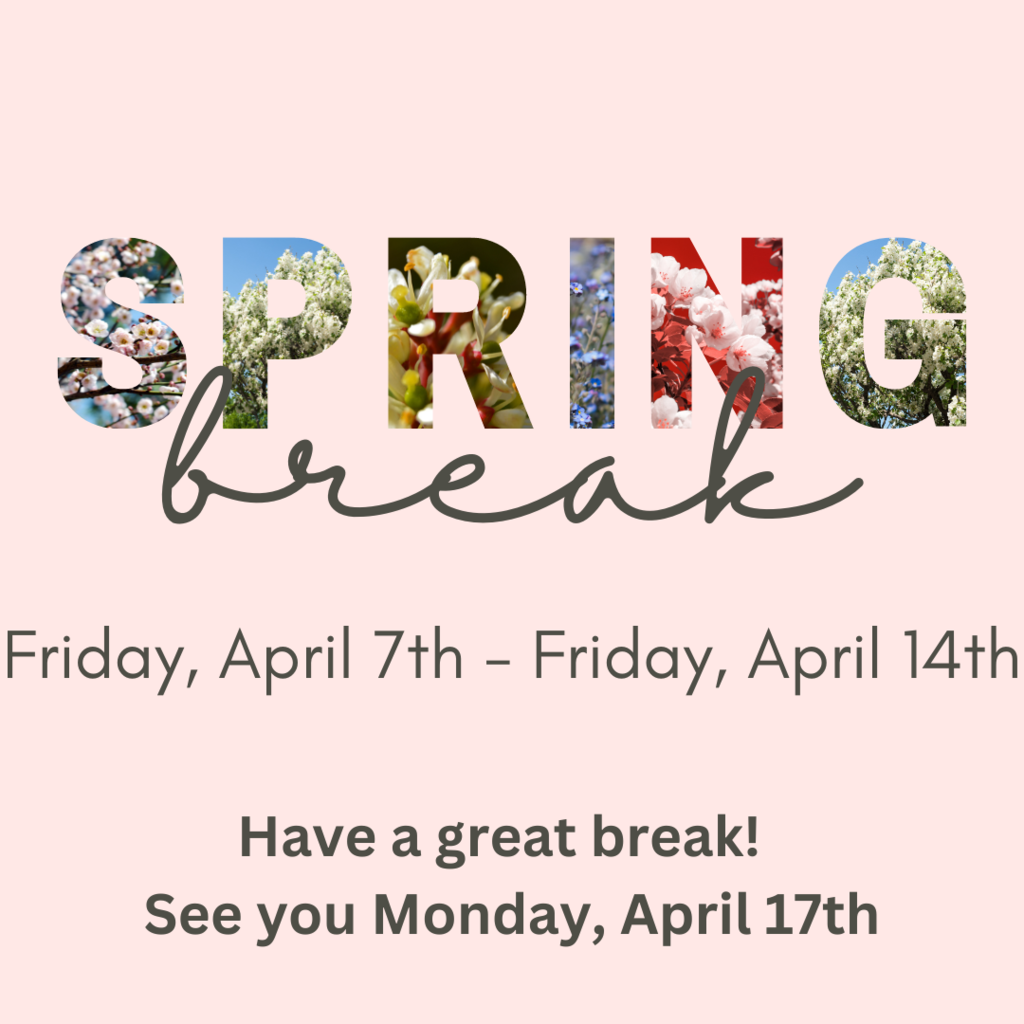 Join us tomorrow for the American Red Cross Blood Drive TOMORROW (4/6/23) 1-6 pm at the Kelso C-7 MP Room Its not too late to sign up! Follow the link below and use the Benton Zip code, 63736 to sign up for your time.
https://www.redcrossblood.org/give.html/donation-time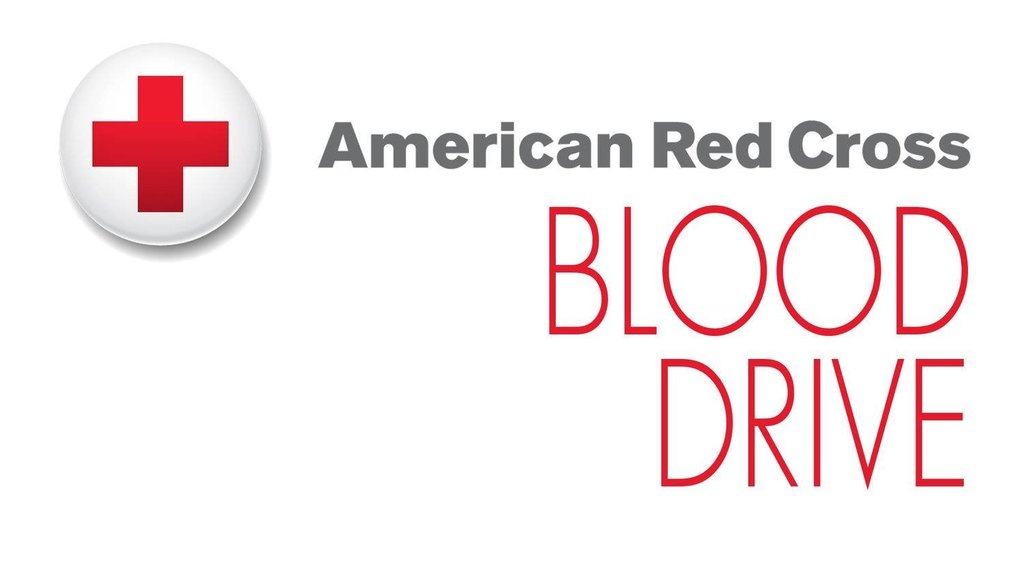 Due to unforeseen circumstances, After School Care will be closed today. We are sorry for the inconvenience.

Week of April 3 -7 At A Glance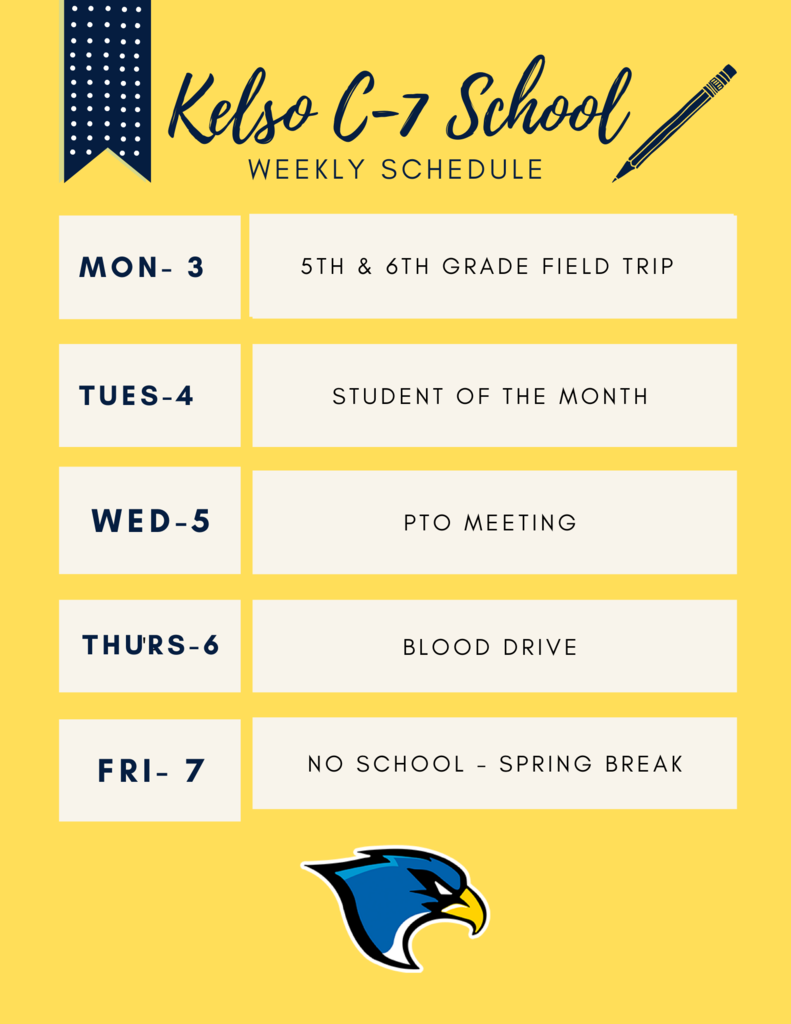 School Closing at 1:00 pm, Friday, 3/31/23 Kelso C-7 school will be closing at 1:00 PM, Friday, March 31 to to allow all of our school family to arrive at home safety ahead of the incoming severe weather. Our region is at an elevated risk for extreme conditions for a large timeframe this afternoon into the evening. This is an ongoing and fluid situation. If we find that the storm is moving more quickly, we will dismiss earlier than 1:00 pm. If something changes, we will communicate that as soon as it is available. Buses will run as normal. There will be no after school care. If you need to communicate a change of how your child is getting home, please call the main office (545.3357). It is okay to message your child's teacher, however, they may not get the message in a timely matter, be teaching, or even be absent. Its essential that any changes go through the office in these circumstances. We appreciate your help to keep all of our Kelso C-7 family safe.

You know it's a good day when you start off with this many positive office referrals!! Look at these amazing Falcons helping and caring for others. We are so so proud of each and every one of these students! Keep up the amazing acts of service!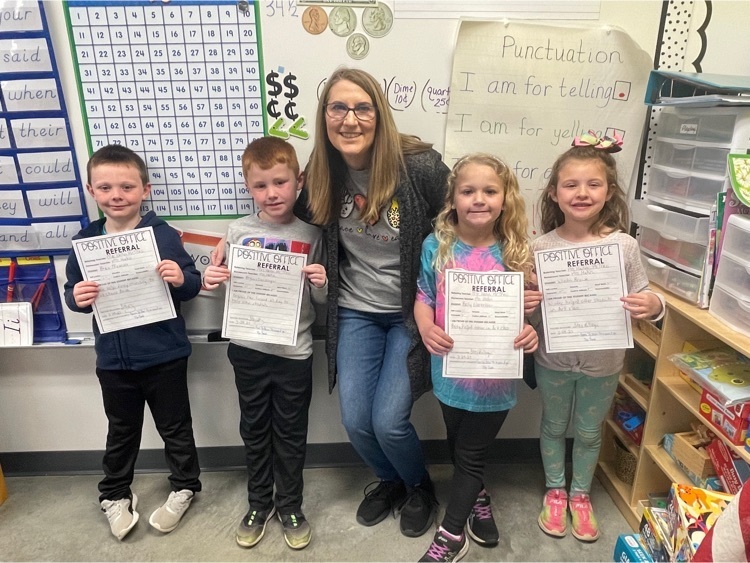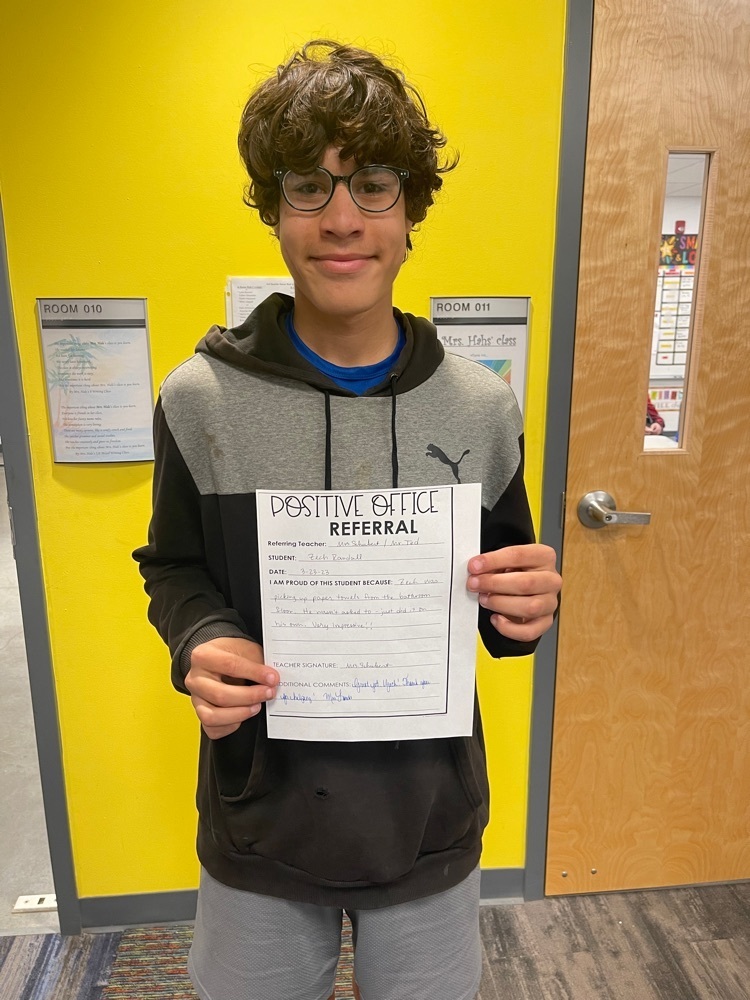 We are looking for our team members during the 2023-24 school year! Kelso C-7 School is currently accepting applications for the following positions: Early Childhood Classroom Teacher Our incoming Kindergarten class is a record breaker! As a result, to ensure that our incoming Falcons have the best possible learning conditions, the District will have their first ever two class grade level. Our team is looking for an additional Kindergarten teacher to work alongside Mrs. Hahn. Middle School Math Mrs. Julie Hahs technically retired last year, but came out of retirement under critical shortage. We are accepting applications for this position. These are big shoes to fill. In the case of no qualified applicants, Mrs. Hahs has committed to returning. (Thank you!) As always, we are always accepting applications for substitute teachers, bus drivers, cooks, nurses-basically all positions. Below is the link for the District's website with applications for interested parties.
https://www.kelsoc-7.k12.mo.us/page/job-opening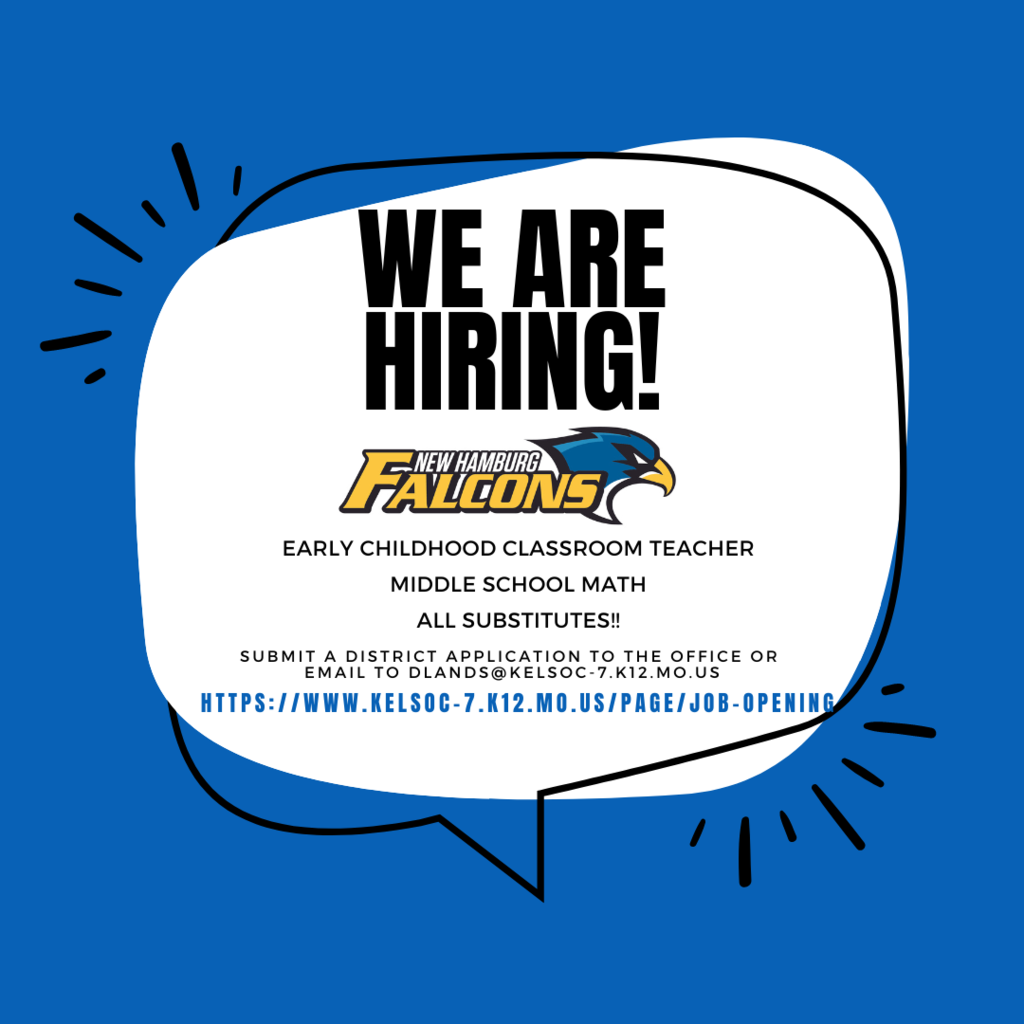 Here's what fun is ahead for our Falcons this week!! We also have just a bit of clarification. On April 6th we had originally planned a "Lunch Bunch." However, with our campus still under construction, we are going to postpone the event until next school year. We look forward to seeing all of our families then!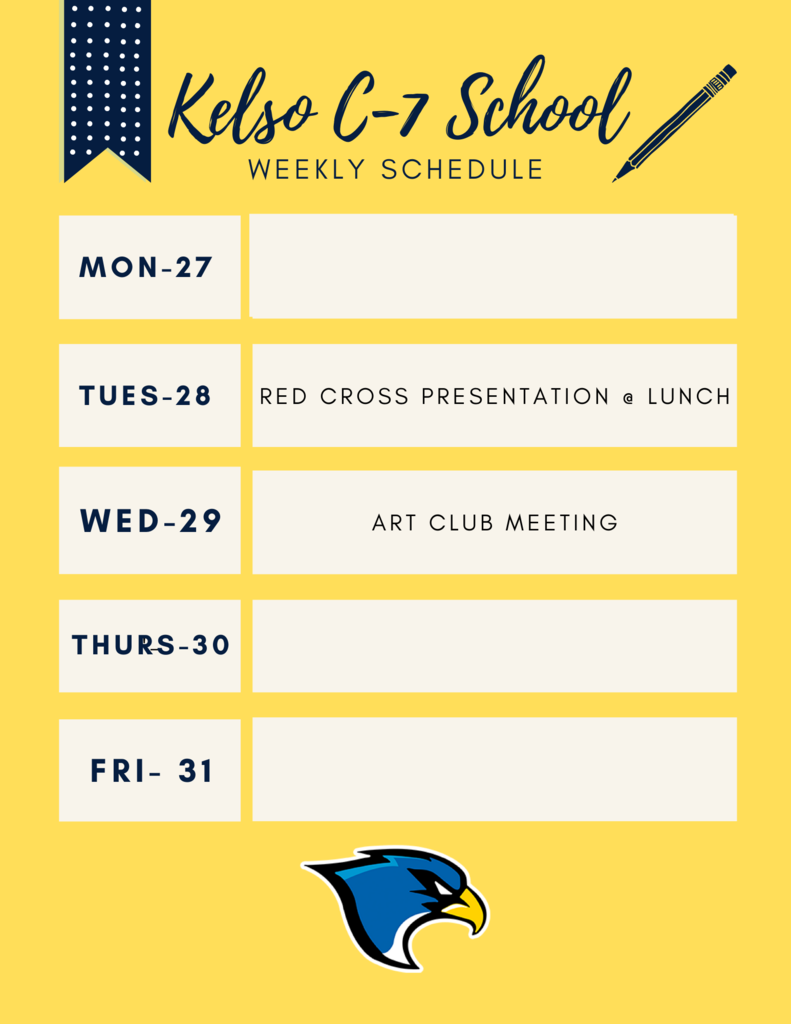 A little late for the actual Thank a Farmer day, but it's never to late to Thank a Farmer! We are so grateful for the Scott County Farm Bureau Board for their gift to our school library! We are proud of our community's agricultural background and continued support!! Have you thanked a farmer recently?? THANK YOU!!!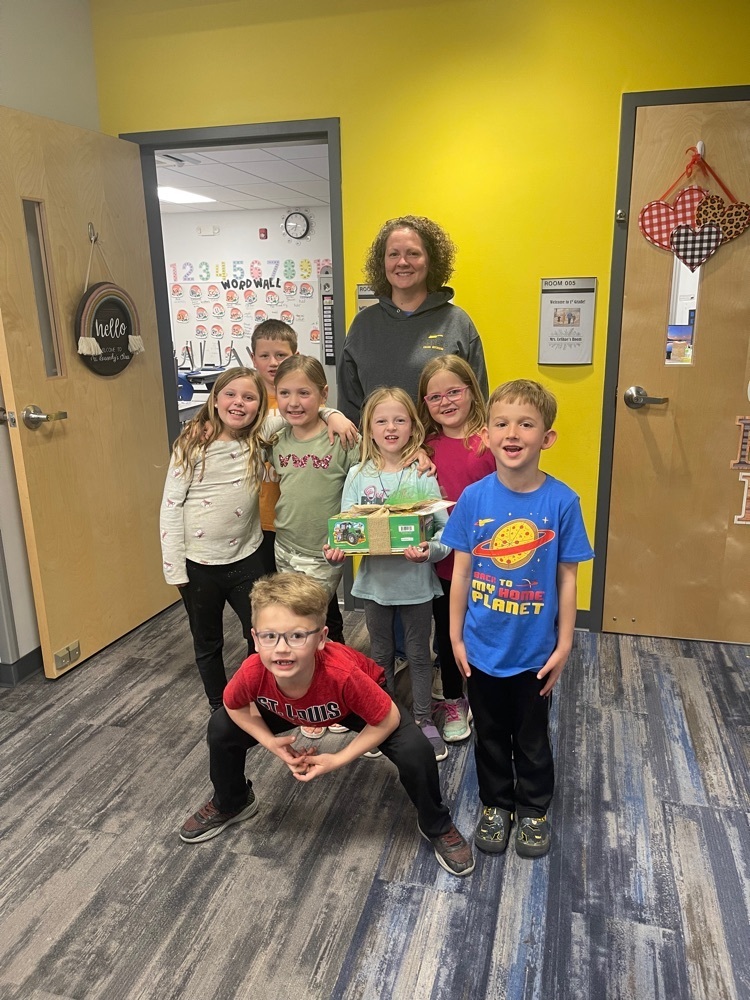 We are experiencing some technical glitches with our report cards. If your child is missing any 3rd quarter grades or attendance, we can send home updated report cards next week. Thank you for your patience and understanding!

Board of Education Meeting is Tuesday, March 7th @ 6:00 pm in the District Library/Team Room 1. All are welcome to invited and welcome to attend.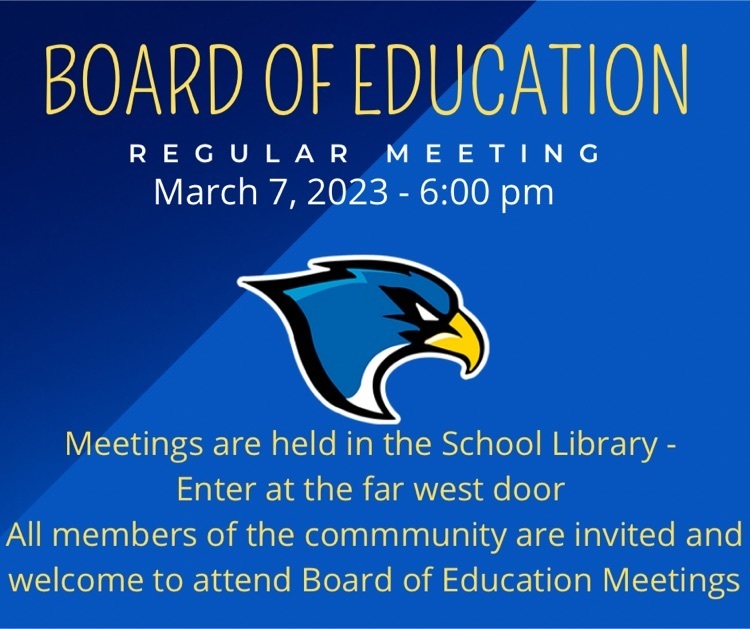 Kelso C-7 Families: Highway A north going to Chaffee is covered as of 630. Other roads are passable with at least one lane or both. Please be aware that bus routes will be delayed today. Safe travels to all. Apologies if this is a repeat message.

Calling Falcons athletes in grades 5-8 that participated in a sport this year!!! The banquet is just around the corner on Thursday, March 9th at the St. Lawrence Gym. RSVPs are due TOMORROW. We still need some parents to challenge our students to volleyball and/or basketball games.